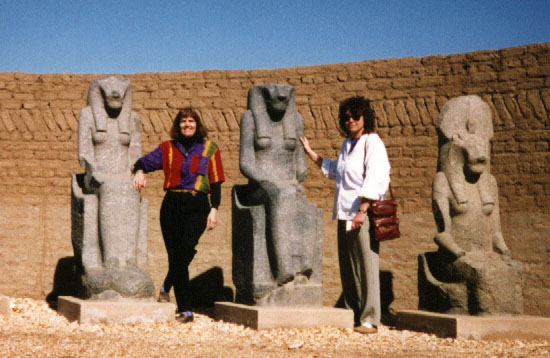 BACK TO EGYPT
Back to Egypt offers opportunities to experience the Ancient Egyptian Teachings and Initiations on-site in the Egyptian Temples, on and along the Nile River, and anchoring to and traveling through Stargates (Gateways to the Stars). These highly unique and sacred journeys facilitate not only our own Re-membering of our spiritual bodies for Ascension but also the re-mantling or Re-membering of the energy systems of the sacred sites. This Re-membering process activates the direct connection to the stars and re-creates the Cosmic Mirror, "As Above, So Below." This on-site enactment of the Ancient Egyptian Teachings and Initiations involves traveling to different temples in very specific configurations, using ancient ceremonies and rituals. These ceremonies and practices include activation and alignment of your energy bodies through the use of sacred chant, oil, posture, dance, symbol, stargate, sound, breathing techniques and other energy practices. This experience of ancient "Al- Khem-EEE" creates a rich tapestry for facilitating union with the Ancient Egyptian Cosmic Cosmology. Truly, a journey of lifetimes!
Tour including airfare from New York to Cairo $4700.00*
Seattle to Cairo or Los Angelos to Cairo $4950.00*
LandPackage only $3900.00*
Optional Journey to Abu Simbel $250.00*
* Tips & gratuities not included
For specific Itinerary click on photo of Philae!